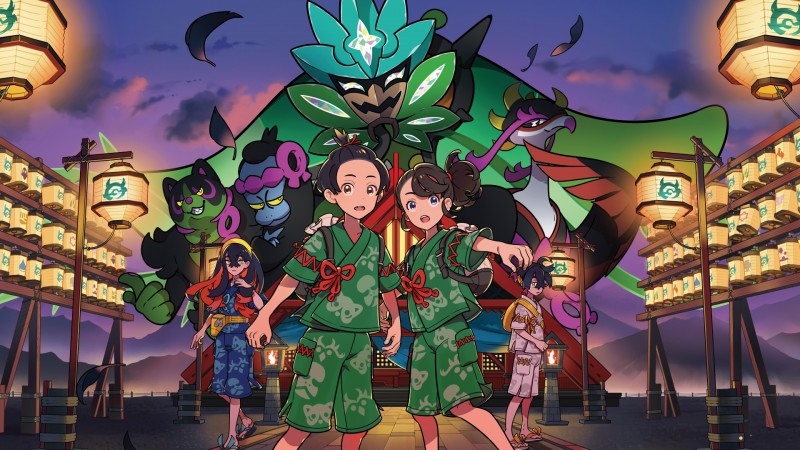 After last year's Pokémon Scarlet and Violet quickly became some of the top-selling Switch titles, it was just a matter of time before Game Freak and The Pokémon Company announced downloadable content for the Paldean adventures. During today's Pokémon Presents livestream, we got our first glimpse of the new stories and journeys that await in Scarlet and Violet's DLC.
The overarching tale, which unfolds over the course of two parts, is called "The Hidden Treasure of Area Zero." The first part, titled "The Teal Mask," begins with a school trip to the land of Kitakami, which features a big mountain with people living at the base. The Pokémon Company describes Kitakami as a "place of tranquil expanses featuring rice paddles and apple orchards." While there, the students can experience a festival happening in the village, with new friends to meet and new Pokémon to encounter. The story revolves around unraveling the mysteries behind the area's folktales. The story of The Teal Mask will lead directly into the second part, which is called "The Indigo Disk."

In this two-part downloadable content, players can encounter more than 230 familiar Pokémon that did not appear in Pokémon Scarlet and Violet when they launched last year, including Pokémon that can be transferred from Pokémon Home (which will soon have connectivity with Scarlet and Violet), as well as monsters that can be traded. The returning Pokémon of The Teal Mask includes Ninetails, Yanma, Milotic, and more. In The Indigo Disk, we'll be able to encounter Pokémon like Dewgong, Metagross, Zebstrika, and others.
On top of that, we're getting all-new Pokémon through this two-part DLC. Starting in The Teal Mask, players can encounter three new Pokémon, Okidogi, Munkidori, and Fezeandipiti. The Teal Mask will also introduce players to a new Legendary Pokémon, Ogerpon. Then, in The Indigo Disk, a second new Legendary Pokémon, Terapagos, will join the world. You can see the art for these Pokémon below.
Part 1: The Teal Mask, arrives for Pokémon Scarlet and Violet in fall 2023. After that, players seemingly won't have long to wait, as Part 2: The Indigo Disk launches in winter 2023. The Hidden Treasure of Area Zero costs $35 for both parts. If you purchase the DLC before October 31, you will receive a Hisuian Zoroark. This limited-time Pokémon not only knows the move Happy Hour, but also Tera Blast, Bitter Malice, and Nasty Plot. In addition, this Hisuian Zoroark features the Charismatic Mark and has Dark as its Tera Type.
Pokémon Scarlet and Violet launched on Switch on November 18, 2022. While the adventure was an overall positive experience, the titles were marred by technical hiccups and performance problems. To learn more about the base experience of Pokémon Scarlet and Violet, you can read our review here.