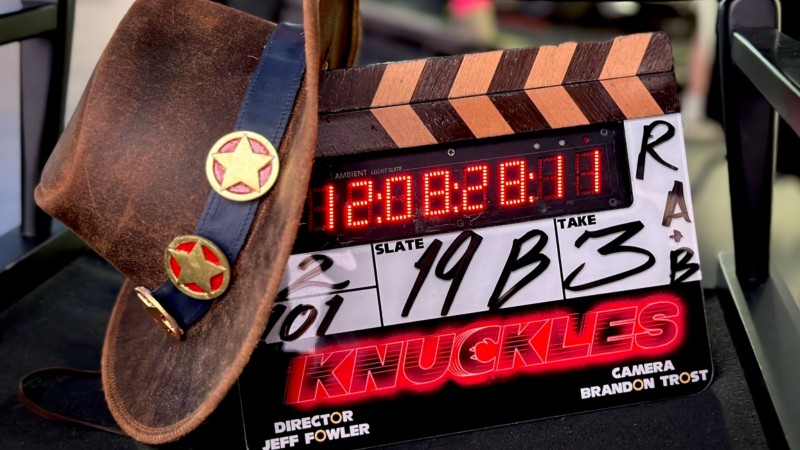 Months before the premiere of the very successful Sonic the Hedgehog 2, Paramount announced plans to create a live-action spin-off TV show starring Knuckles. After over a year of silence, we now know the project is officially underway, as well as the cast that will bring the series to life. 
Sonic the Hedgehog director Jeff Fowler also sits at the helm of this series, and he tweeted the above image of the Knuckles clapperboard complete with the character's cowboy hat that he donned in the '90s animated film Sonic the Hedgehog: The Movie. Production is currently taking place in London, with Sonic the Hedgehog 2 screenwriter John Whittington serving as head writer and executive producer. 
#knuckles pic.twitter.com/Hr4zNjuLuj

— Jeff Fowler (@fowltown) April 17, 2023
The show is expected to premiere on Paramount+ later this year, with Idris Elba reprising his role as Knuckles. Variety reports that other returning stars from the films include Adam Pally as Wade Whipple and Tika Sumpter as Maddie. The cast also includes Edi Patterson (The Righteous Gemstones), Julian Barratt (Mindhorn), Scott Mescudi (AKA Kid Cudi), Ellie Taylor (Ted Lasso), and Rory McCann (Game of Thrones).
Plot details remain scant, but Knuckles is set after the events of Sonic the Hedgehog 2 and before the upcoming third film, set to hit theaters on December 20, 2024. The story centers on Knuckles taking on Wade as his student, training him to become an Echidna warrior. 
Are you looking forward to the Knuckles series? Let us know in the comments!