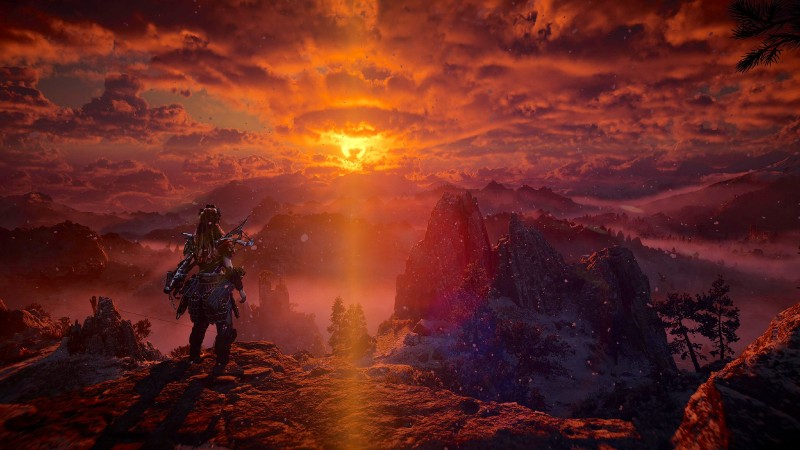 Just a few days away from the launch of Horizon Forbidden West's Burning Shores DLC last week, Guerrilla Games has teased more adventures with Aloy. 
This news comes from a statement released by the studio to announce that studio director and executive producer Angie Smets is leaving Guerrilla to serve as the head of development strategy for PlayStation Studios. It's a move similar to the one the team's former managing director, Hermen Hulst, made in 2019, transitioning from that director position to head of Sony Interactive Entertainment Worldwide Studios. 
Within that statement, Guerrilla teases what could be Horizon 3 or at least, a third game in Aloy's world, as reported by PlayStation Lifestyle. 
"We have full confidence in our new leadership as they steer Guerrilla towards a bright future, expanding the world of Horizon with Aloy's next adventure and our exciting online project," the statement reads. 
As you can see, Guerrilla isn't trying to hide it – the studio has plans for another adventure with Aloy. And while rumors and speculation point to the "exciting online project" being some kind of multiplayer game within the Horizon world, this statement made sure to separate Aloy's next adventure and that online project. 
In terms of the studio's new makeup, the management team now consists of studio and production director Joel Eschler, studio director and general manager Hella Schmidt, and studio and art director Jan-Bart van Beek. Technical director Michiel van der Lee will "be focusing on the future technology and strategy for the Decima engine." 
This statement also includes some words from Smets, who leaves Guerrilla after "an incredible 20 years" there: 
"These past two decades at Guerrilla have been an absolute dream. I feel privileged to have worked alongside some of the smartest and coolest people in the industry. I'm so grateful for everything I've learned alongside all the other Guerrillas. We have accomplished so much as a team, and I'm incredibly proud of all the games we've shipped together.
A special shoutout to Jan-Bart van Beek and Michiel van der Leeuw. It feels like just yesterday that we were figuring out how to make and ship the first Killzone. Little did we know that we would eventually lead Guerrilla together. You've become like brothers to me, and there's no way to thank you enough. I will miss you dearly."
For more about Horizon, read Game Informer's Horizon Forbidden West review. 
[Source: PlayStation Lifestyle]
What do you think comes first? A third Horizon game or this multiplayer project? Let us know in the comments below!