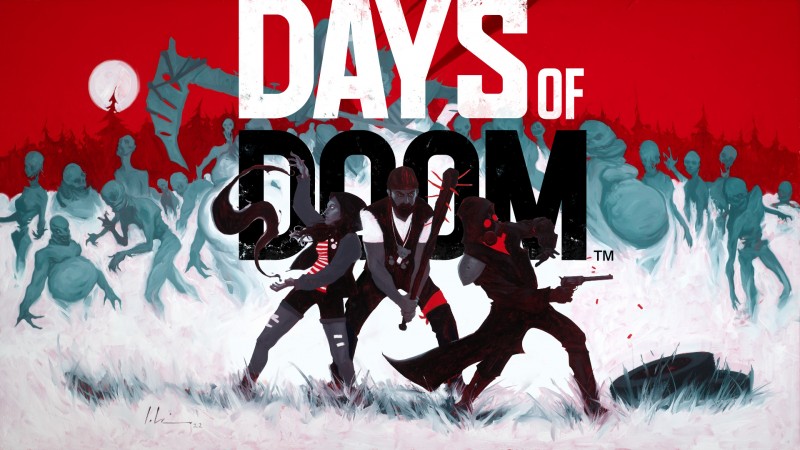 Atari and developer Sneakybox have announced Days of Doom, an apocalyptic turn-based tactical roguelite. The game hopes to subvert the expectations of those who are tired of the brown and gray color palettes of other apocalypse settings by placing the action over vibrant and colorful backdrops as you battle through hordes of zombies, raiders, and mutant lizards. 
Navigating the wasteland to reach a sanctuary will require strategy, as you must combat the encroaching mutated forces using your group of distinct survivors. Beyond the turn-based tactics at play, you must also manage your scarce collection of resources and keep your wits about you as you maneuver through the hordes of the undead.
Each of the eight survivor classes features unique abilities that can be used to shift your fortunes in battle. For example, the Pyro class allows you to burn enemies and leave them with residual damage each turn while combining the Hydromancer with the Thrasher can drench enemies with water before electrocuting them for a devastating synergy. Players will need to use these abilities to their advantage and think strategically with these abilities to overcome the seemingly insurmountable odds.
And, of course, with it being a roguelite game, players can expect each run to feel unique. More than 50 randomly occurring events present risk-reward scenarios for players during their runs, while more than 70 collectible items and runes can help you turn the odds in your favor in your given run. However, as you play several runs and make progress, you unlock permanent upgrades, such as party size increases and resource accumulation speed.
If you'd like to learn more, you can check out the reveal trailer below.
Days of Doom arrives on PlayStation 5, Xbox Series X/S, PlayStation 4, Xbox One, Switch, PC, and Atari VCS later this year.