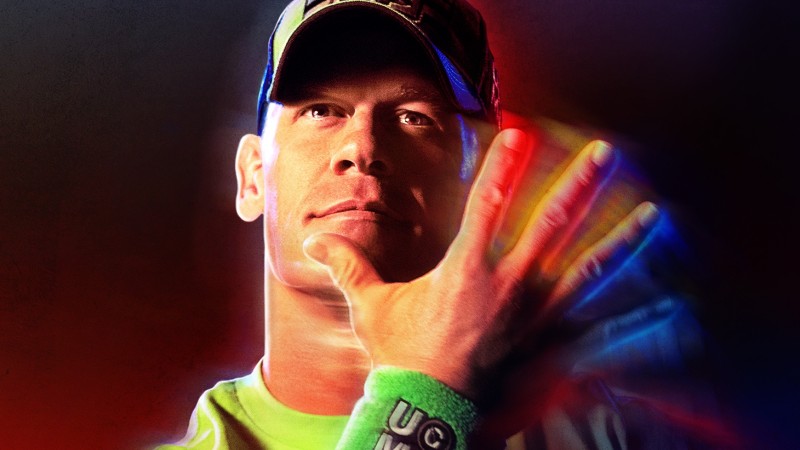 WWE 2K23 has been unveiled, and for some strange reason, 2K decided the cover art will feature a blank picture instead of a wrestler. I kid, of course. This year's cover superstar is the 16-time World Champion and master of implied invisibility, John Cena.
As for features, so far, the biggest new addition is WarGames match type (WWE's version). The dual-ring, double cage match can be played 3v3 or 4v4 single-player or online. 2K also teases a "unique new take" on the documentary style 2K Showcase mode, which of course, highlights Cena's career. MyGM returns in an expanded form, MyFaction is getting online multiplayer, and the story-driven MyRise, Universe, and Creation modes are back. For the Creation Suite, custom arenas are now playable online, and entrances have more customization options. Another railer, which will share more information and gameplay, will premiere during tonight's episode of Monday Night Raw.
As for the roster, here's the short list of confirmed superstars thus far:
Bad Bunny (pre-order bonus, see below)
Batista
Brock Lesnar
Cody Rhodes
John Cena
Randy Orton
Ronda Rousey
Roman Reigns
"Stone Cold" Steve Austin
WWE 2K23 comes in three versions, each plastered with exclusive cover art, as you can see in the gallery above. The Standard Edition runs for $69.99 on current-gen consoles and $59.99 on last-gen. You can also grab a Cross-Gen edition for 69.99 that gives you both versions of the game within the same console family. Additionally, those who pre-order the Standard Edition and Cross-Gen Digital Bundle get the Bad Bunny Bonus Pack, which includes: 
Bad Bunny playable character
Ruby tier Bad Bunny MyFaction card
The Doctor of Thuganomics-flavored Deluxe Edition sets you back $99.99 and includes the standard edition plus the following extras:
Bad Bunny Bonus Pack
Season Pass for five post-launch DLC packs
MyRise Mega-Boost and SuperCharger
Ruby John Cena MyFaction Evo Card
Gold Edge MyFaction Card
Emerald Bianca Belair MyFaction Card
Gold Asuka MyFaction Card
Three Basic Premium Launch My Faction Card Packs
Three days early access (March 14 launch)
Finally, the Icon Edition runs for $119.99. It boasts art by original cover art by artist Rob Schamberger and boasts everything in the previous editions plus:
Ruthless Aggression Pack: features early developmental versions of superstars such as John Cena's "Prototype" character, "Leviathan" Batista, along with rookie Brock Lesnar and Randy Orton
John Cena Legacy Championship
WrestleMania 22 Arena
Emerald Paul Heyman MyFaction Manager Card
Three Deluxe Premium Launch MyFaction Card Packs
WWE 2K23 will be available on PlayStation and Xbox consoles and PC, and the full launch is set for March 17. You can read our review of last year's game, WWE 2K22, here.