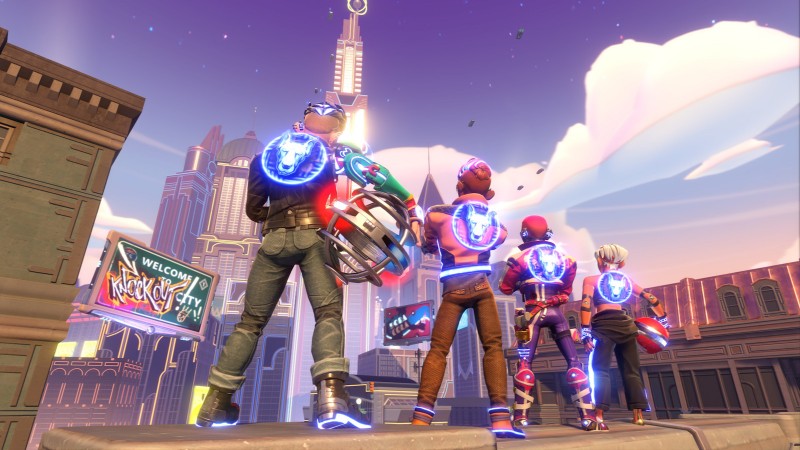 Velan Studios has announced that it is shutting down its dodgeball multiplayer game, Knockout City, in June. 
The studio announced in February of last year that Knockout City was going free-to-play and saying goodbye to Electronic Arts, who originally published the game as an EA Originals title, to self-publish the game's future content. That free-to-play launch happened last June with the start of Season 6 and now, Velan has announced that it will shut the game down in June of this year. More specifically, Knockout City will be shutdown on June 6. 
"Today we are announcing that Season 9 will be Knockout City's final season," Knockout City director Jeremy Russo writes in a blog post. "Then, on the morning of June 6, 2023, over two years after our initial launch, all servers around the world will be shut down and the game will no longer be playable."
Russo writes that the game's final season will be jam-packed with new content, an "epic send-off both in and out of the game," and even a private server version on PC so that Knockout City can be enjoyed by players who host their own server forever. 
As for why, Russo writes that Velan has learned a lot about multiplayer live-service games through Knockout City and that despite 12 million players and billions of KOs in-game, "there are several aspects of the game in need of a major disruption to better attract and retain enough players to be sustainable."
"Since we are a small, indie studio, it's simply impossible for us to make those kinds of systemic changes in the live game while continuing to support it," Russo continues. "So it became clear to us that we needed to take a step back and pave the way for Velan to do what we do best by innovating." 
Now, Velan plans to take everything it's learned over the course of Knockout City's lifetime and apply it to "other games and product we are very excited about." Russo writes that the team is currently in the process of doing a "comprehensive retrospective on every aspect of the game, all the community feedback and analytics data, and even our development processes" with the hope that "sometime in the not-too-distant future, all this information can be used to start work on what comes next in the Knockout City universe." 
On February 28, 2023, Season 9 of Knockout City will begin with the final planned update, Version 9.0. Season 9 will run 12 weeks with six back-to-back events featuring some of the studio's most creative cosmetics yet, fresh new twists on several of fan-favorite playlists, an event focused exclusively on League Play, and a super-sized two week Midnight Madness where the community will pick the two playlists they want to play to close out the last season. There will be a new map to accompany the new Brawl Pass and Deep Space storyline as well. 
On the same day, all real-money transactions will be removed from the game. To make up for this, though, Velan says it has packed every event in Season 9 with rewards for XP, Style Chips, and thousands of Holobux. Every event will feature a massive sale shop with huge discounts, Russo writes, and almost every cosmetic the team has made will make an appearance in the shop at some point in Season 9. 
"On May 23, just after our two-year anniversary, Season 9 ends and our final 2-week farewell event begins, which we're calling Thanks for the KOs," Russo writes. "This will be one final in-game celebration of Knockout City, featuring Triple XP, massive rewards, and the return of the community's favorite playlist, Superpowers: Power Grab. Then, at 12 p.m. UTC on June 6, 2023, the event ends and all servers will be permanently shut down." 
Russo ends the blog post with a big thank you to all of Knockout City's players, which you can read, in full, below: 
On a personal note, announcing the end of Knockout City is a bittersweet moment for me. While this is the end of a two-year journey for some of you, I and a handful of others on the team have been living in Knockout City for over six years. I am so proud of the team at Velan for creating such a wild new game with such critical acclaim at launch, for creating a brand new engine from scratch that's capable of doing things no other engine can do over the internet, for creating what I think are some of the most creative (and hilarious) cosmetics of any live-ops game on the market, and for keeping the game running, evolving, and improving for two years straight. I'm also so grateful to all of you, the players, for being the most positive and supportive game community any of us have ever seen, for dedicating your time to talking to us on Discord, Twitch, and elsewhere, for teaching me new tricks in my own game every time you beat me down in a match, and for putting up with me when I'm laying on that Taunt button a bit too much!
Thank you, brawlers, for all your passion and support these past few years. I hope you all enjoy the final season of Knockout City, and I'll see you out there!
We really enjoyed Knockout City when we reviewed it back in 2021, giving it an 8.5 out of 10. You can read Game Informer's review right here. We even called it the best sports game of 2021. 
Word of Knockout City's shutdown joins a slew of other news this week about games shutting down. EA announced earlier this week that it was shutting down Apex Legends Mobile and Battlefield Mobile, and the same day, Iron Galaxy Studios' Rumbleverse announced it was shutting down as well. 
Are you hopping into the final season of Knockout City? Let us know in the comments below!