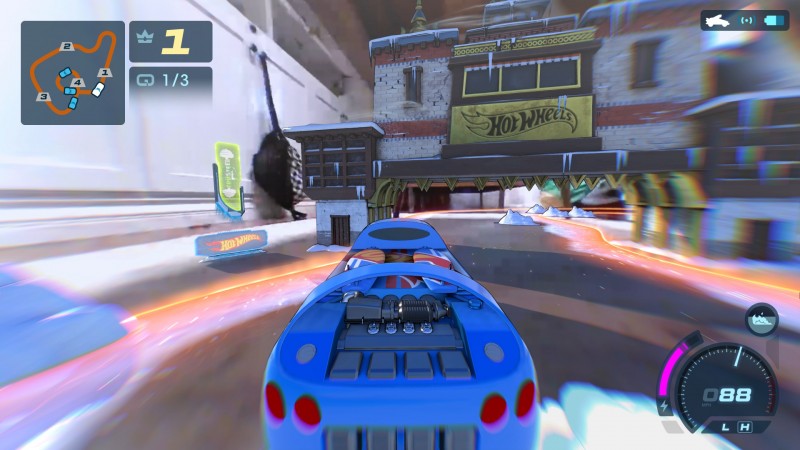 Velan Studios, the developer behind Mario Kart Live: Home Circuit and Knockout City, has announced Hot Wheels: Rift Rally. This new mixed-reality racing game comes by way of a collaboration with toy maker Mattel, playing off the experience the studio accrued through past games.
Much like Mario Kart Live: Home Circuit, Hot Wheels: Rift Rally comes with a physical remote-controlled car, as well as physical course-creation elements, allowing players to design their own tracks within their house and race using the device's camera. The aptly named Chameleon physical RC car used for Hot Wheels: Rift Rally can digitally transform into more than 140 different vehicle variations, including iconic Hot Wheels vehicles like Twin Mill, Bone Shaker, Mach Speeder, and more. Rift Rally also includes several all-new original and licensed vehicles.
In Hot Wheels: Rift Rally, players can enjoy the mixed-reality racing experience through two distinct modes. Campaign mode lets players set up their physical Rift Gates how they want and explore different challenge maps with distinct objectives from race to race. Then, in Stunt mode, players can drive the Chameleon RC car without gates or a defined track with the objective of chaining together drifts, wheelies, and burnouts to get high scores.
Hot Wheels: Rift Rally offers two bundles for players who want to jump into the action. The Standard Edition retails for $130 and includes the Chameleon RC car, four Rift Gates used for track building, and a charging cable. The Collector's Edition costs $150 and includes the Chameleon RC car with black deco and gold accents, plus a limited-edition McLaren Senna Hot Wheels die-cast car in a display case. The game software is free to download.
This announcement comes less than a week after Velan Studios announced the closure of its well-liked dodgeball-based arena shooter, Knockout City. Hot Wheels: Rift Rally arrives on PlayStation 5, PlayStation 4, and iOS on March 14. For more on the studio's first RC-car-based mixed-reality racer, check out our review of Mario Kart Live: Home Circuit. For more on the most recent Hot Wheels game, Hot Wheels Unleashed, from developer Milestone, read that review here.