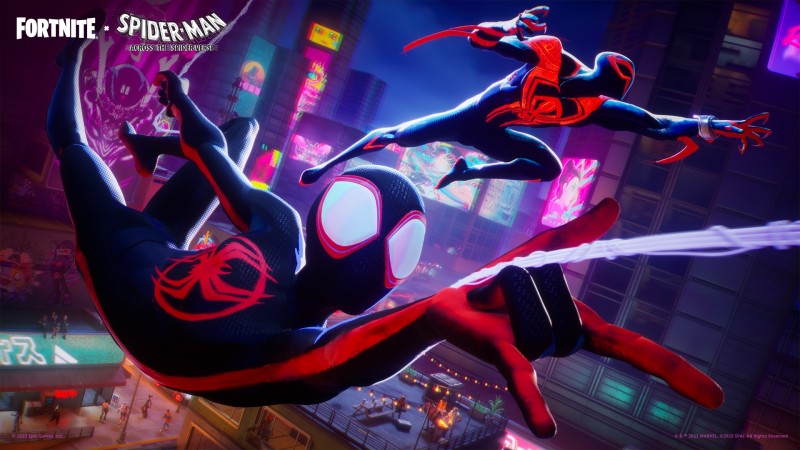 With Spider-Man: Across the Spider-Verse set to arrive in theaters in just over a week, it should come as no surprise that Fortnite is adding some items and costumes to the most expansive IP crossover in gaming history. As teased yesterday, Miles Morales and Miguel O'Hara (AKA Spider-Man 2099) are joining Fortnite in promotion of the highly anticipated film.
The new additions, which include reskinned Spider-Man's Web-Shooters – now called Spider-Verse Web-Shooters – and two new Outfits, accompany Spider-Man themed Week 11 Quests. Epic Games teases that the Web-Shooters, in particular, will come in handy in those Quests. While most of those Quests award XP, one will give you the "Silk & Cologne (EI8HT version)" lobby track from Spider-Man: Across the Spider-Verse.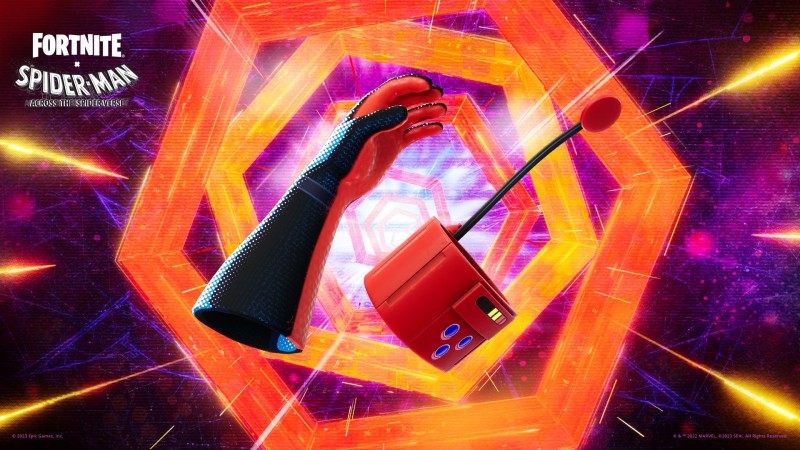 If this sounds up your alley, you can find the Spider-Verse Web-Shooters on the ground or by exchanging bars for them from Spider-Gwen. You can also find the Spider-Man (Miles Morales) Outfit, which includes the masked Earth 1610 alt style and the Spider-Verse Portal Back Bling, as well as the Spider-Man 2099 Outfit, which includes the 2099 Web Cape Back Bling, in the Item Shop. These items, along with other accessories, can be purchased as part of the Across the Spider-Verse Bundle. That bundle includes the Mega City Swing Loading Screen.
Spider-Man: Across the Spider-Verse arrives in theaters on June 2.