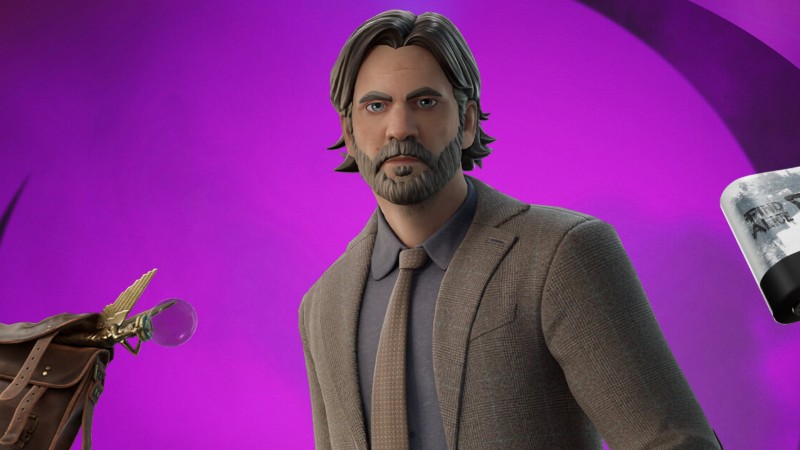 It's October, which means it's the month of Halloween. And Fortnite players know that this month is when developer Epic Games celebrates the season with Fortnitemares, a spooky-themed event that typically includes new weapons, quests, skins, and more. This year is no different as Fortnitemares 2023 runs from now until November 3 and brings with it Alan Wake, Michael Myers, Jack Skellington, a new shotgun, a new blade, a pumpkin launcher, a witch broom, and more. 
Everything In The Fortnitemares 2023 Event: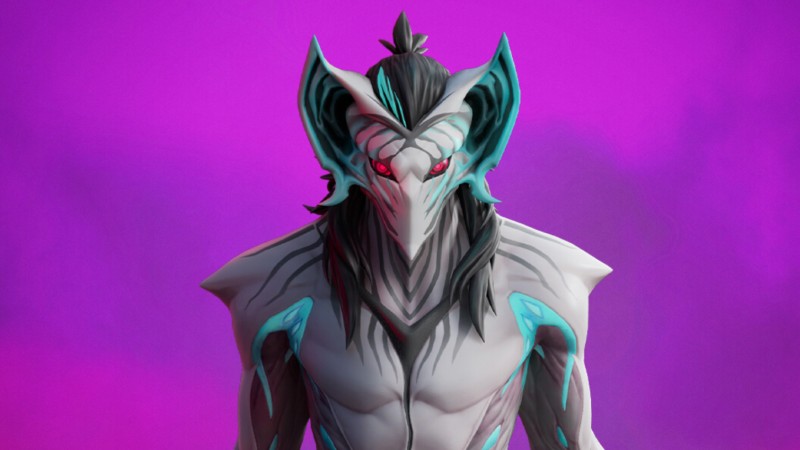 New Fortnite Skins And Outfits
One of the most exciting aspects of a new Fortnitemares Halloween event is the addition of new skins and outfits into the battle royale. And for our money, this year's lineup is one of the best so far. 
Here are four new original skins created by Epic Games: the wrapped rapscallion Seth, muckfish Bogstick, meownstrosity Phantom Meowscles, and nautilus Festival Phaedra.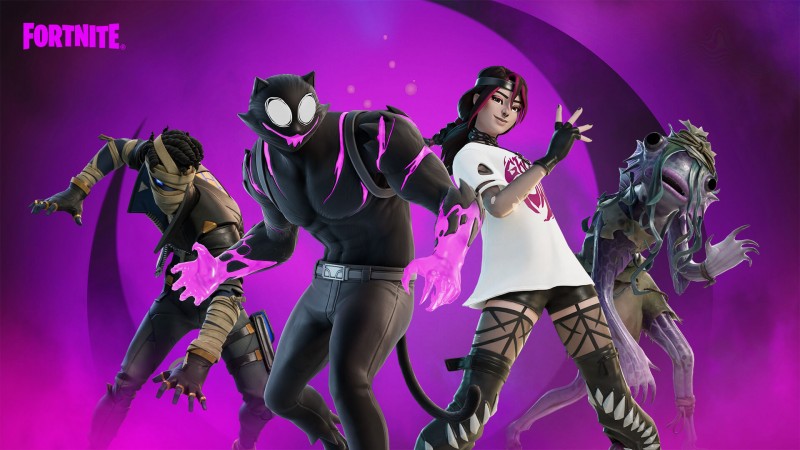 Disney's Jack Skellington From The Nightmare Before Christmas
The Pumpkin King (and attempted king of Christmas, too) joins Fortnite later during the Fortnitemares 2023 event. He will be available in the Item Shop. With him, players can get the Zero Back Bling, Peppermint Parasol Pickaxe, and Jack's Sled Glider.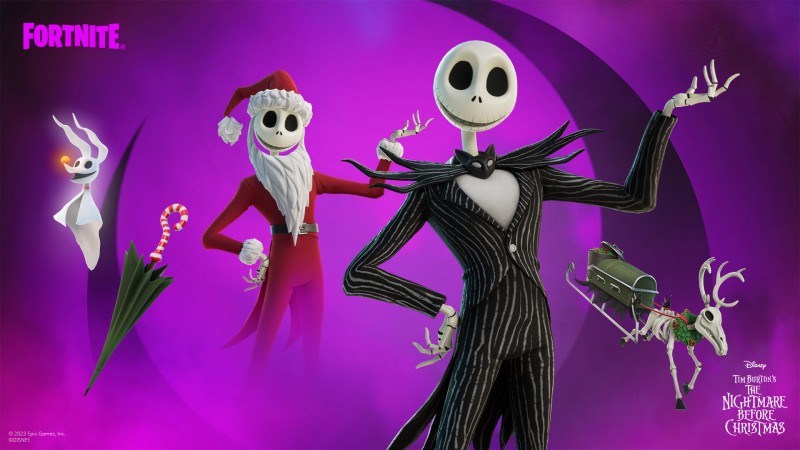 Plus, the Jack's Scary Face Emote is built into the outfit, and you can travel on clawfoot with the universal Lock, Shock, and Barrel's Tub Emote as well.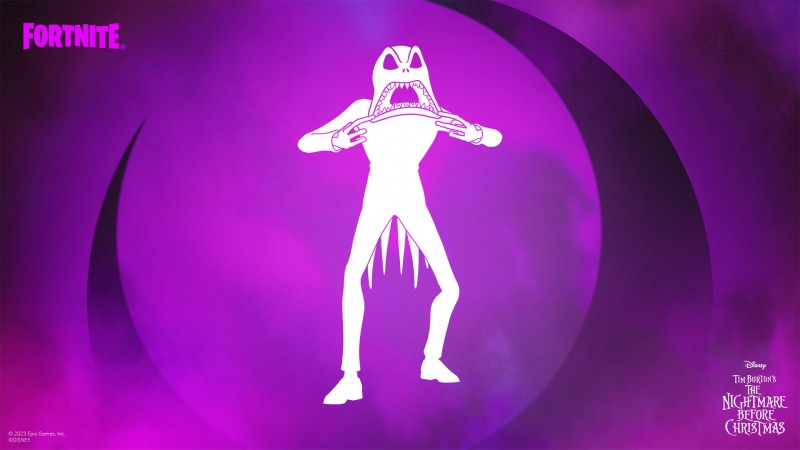 Halloween's Michael Myers
The Shape, otherwise known as Michael Myers, will hit the Item Shop later during the Fortnitemares 2023 event. His set seemingly includes a musical emote, a jack-o-lantern back bling, and a knife as a pickaxe.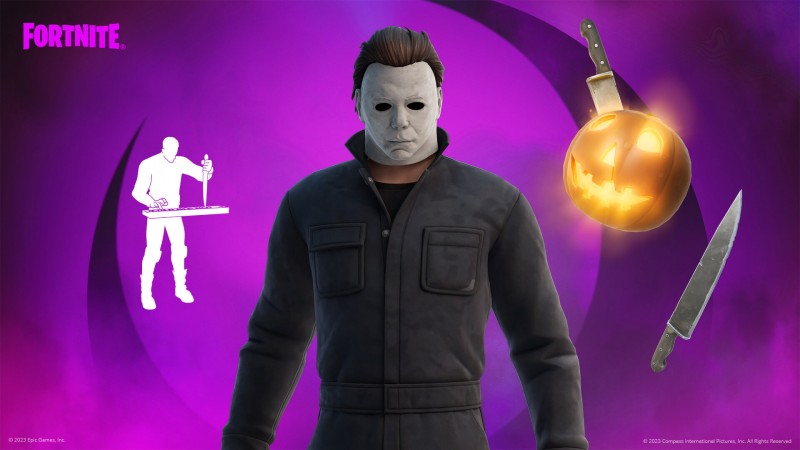 Alan Wake
The tortured author that is Alan Wake, who will appear in the upcoming Alan Wake 2 later this month, will join the Item Shop later during Fortnitemares 2023. You can pick up the Alan Wake outfit, a satchel bag, a weapon and vehicle skin, and a special flashlight-esque pickaxe.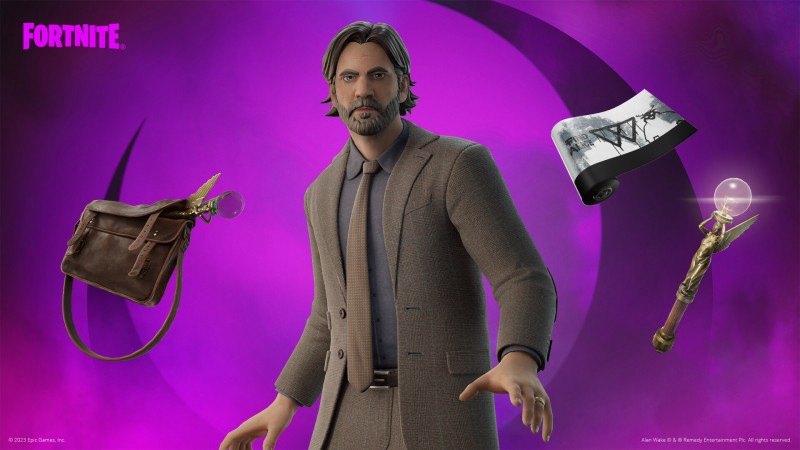 New Fortnite Weapons
Alongside the new skins and outfits in Fortnitemares 2023, Epic Games is adding some weapons and more to the battle royale. Up first is the Wood Stake Shotgun, which can be found on the ground, in regular and rare chests, and in holo-chests. 
You can also pick up Thorne's Vampiric Blade, which only drops once you've defeated the vampire, Kado Thorne. It gives you health at the expense of others – damage an enemy and your health will slowly be restored. 

If you're looking for something more explosive, look no further than the Pumpkin Launcher, returning from the vault. With it, you can launch explosive jack-o-lanters that will give opponents a scare. It can be found on the ground, in regular and rare chests, in holo-chests, and within flying drones. 

The Witch Broom is a new Rocket Ram-esque traversal item that will quickly launch you into the sky, where you can glide safely to the surface below. You can find it on the ground and in chests. 

Alongside these weapons, you can find different pieces of candy around the battle island, each with different effects. There's Candy Corn, Pepper Mints, Hot Drops, and Jelly Beans. As for what to expect, you'll have to pick them up to find out. But as an example, Hot Drops give a temporary low gravity effect to those who eat it. 
You can find this candy in Candy Buckets, by ringing doorbells and defeating guards, or by eliminating bosses. 

Fornitemares 2023 Quests And Rewards
As with most events like this, Epic Games has cooked up some quests for players to complete during Fortnitemares 2023. Here's what to expect:
Complete 5 Fortnitemares Quests to earn the Bat Royale Back Bling and a Cat Banner Icon
Complete 15 Fortnitemares Quests to earn the Sweet! Emote, Phantasmic Fall Contrail, and the Hypno-Bat Spray
Complete 25 Fortnitemares Quests to earn the Revenant Rider Glider, Within the Sanctum Loading Screen, and the Rise of the Revenant Lobby Track

Epic Games says the Fortnitemares Quests will progressively become available over the course of the event, which runs until 2 a.m. ET on November 3. The quests will challenge you to heist Thorne's properties, use new and unvaulted Fortnitemares items, and more. Plus, there are Fortnitemares Quests that challenge you to earn XP in Fortnite's Creative mode. 
Fornitemares 2023 Horde Rush Mode
The limited-time Horde Rush experience is back in Fortnite with Fortnitemares 2023. As a team, you must go to different locations and survive each one's Cube Monster horde. You must survive until you defeat the Final Boss. As you take down monsters, you'll earn points and you can rack those points up even higher with combos and collectible multipliers. Horde Rush mode will be available throughout the duration of Fortnitemares 2023, which ends on November 3. 
Here are the quests and rewards you can complete during it for special items: 
Complete 1 Horde Rush Quest to earn The Murk Wrap
Complete 4 Horde Rush Quests to earn the Heart-o-Lantern Emoticon
Complete 7 Horde Rush Quests to earn the Batwing Bonespike Pickaxe

Other Fortnitemares 2023 Updates
Alongside the Fortnitemares 2023 update comes the new "Quick Weapon" Action, in beta form. 
"When enabled, Quick Weapon replaces the 'Next Weapon' button," a Fortnite blog post reads. "Press Quick Weapon to equip your primary item. Press one of the face buttons while pressing Quick Weapon to switch to one of the other item slots. You can press Quick Weapon and a face button simultaneously to swap to that item instantly, or hold the Quick Weapon button for as long as you like to get used to how the face buttons match up with the items in your inventory. 
"Additionally, when Quick Weapon is enabled, 'Previous Weapon' is replaced by 'Place Marker' to make it easier to communicate with your squad. Or you can replace Previous Weapon with the action of your choice by customizing your controls in the controller customization options. "
Elsewhere, Epic Games says that starting with update v28.00, players will be required to use OS10 or higher to continue playing Fortnite natively on Android. This means Android OS9 will no longer be officially supported by Epic Games for Fortnite. 
If you haven't jumped into Fortnite lately, Fortnitemares 2023 seems like a great place to jump in. Check out the Fortnite Chapter 4: Season 4 Last Resort trailer for a look at this season's locations, vampires, and more, and then read about how Star Wars' Ahsoka joined the game recently. Catch up on everything you need to know about Fortnite Chapter 4: Season 4 after that and then read about how Epic Games chief creative officer and Fortnite head Donald Mustard is retiring. 
Are you hopping into Fortnitemares 2023? Let us know which skins you want in the comments below!