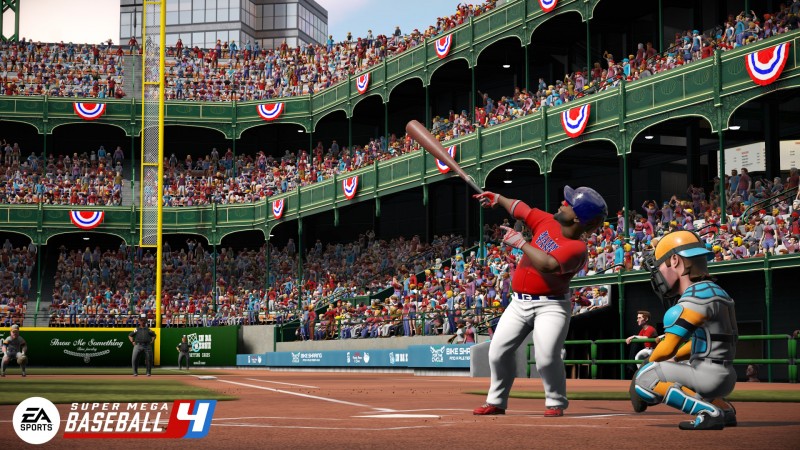 The Super Mega Baseball franchise is gearing up for its fourth entry to step into the batter's box, and this time, it's bringing a large suite of upgrades and enhancements, likely thanks to its new publisher, EA Sports. Electronic Arts acquired developer Metalhead Studio a year after the launch of Super Mega Baseball 3, meaning that the developer had the benefit of creating this fourth entry with the added resources of its new parent company.
The result appears evident. For the first time in series history, more than 200 legends of the sport (including cover star David Ortiz) are included in the roster alongside the fan-favorite cast of players from the earlier games in the series. You can take the new roster and enjoy the various modes in a variety of ways, including a league of baseball legends with teams organized by era. You can also use the new Shuffle Draft feature that lets you draft a unique roster featuring real-life legends and Super Mega All-Stars.
And, of course, the standard Exhibition, Franchise, Pennant Race, Season, and Online Leagues are present in Super Mega Baseball 4. However, they include various new improvements, including cross-play on all platforms for Pennant Race and Online Leagues. The suite of modes also includes expanded player traits, a new team chemistry system, automatic walks, two-way players, expanded bullpens, customizable free-agent pools, and more. The audio and visual aspects also receive an upgrade, with new crowd sounds, voiceovers, sound effects, licensed and original music, better lighting, and new cameras.
Super Mega Baseball has proven to be a less serious but just as fun alternative to the MLB The Show series for years now, and it seems as though EA Sports and Metalhead Studio are really making a push with this year's entry. We'll have to wait and see how much of an impact these changes have on the series' popularity without the actual MLB license, but the strong foundation from the past couple of entries appears alive and well, and the improvements all seem like awesome steps in the right direction. 
Super Mega Baseball 4 arrives on PlayStation 5, Xbox Series X/S, PlayStation 4, Xbox One, Switch, and PC on June 2.