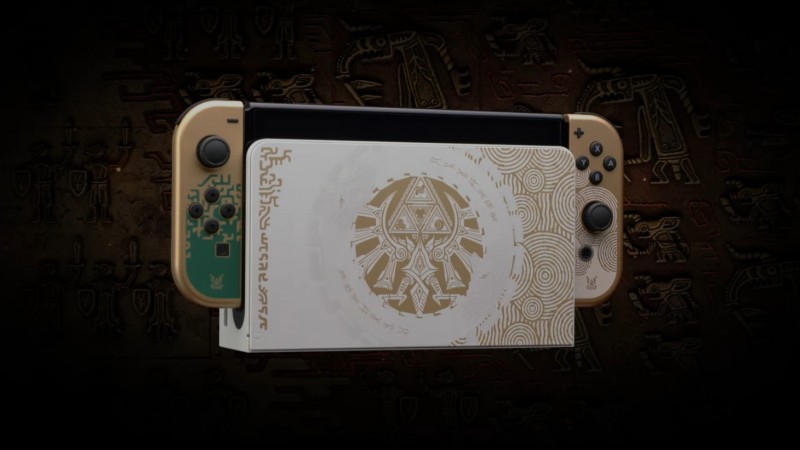 Nintendo has released its latest round of financial results, this time for the end of Fiscal Year 2023 (which ended in March). While the Switch has surpassed 125 million units sold – it's officially at 125.62 million units as of March – both hardware and software sales for the platform are down. 
Hardware is down from 23.06 million units sold in Fiscal Year 2022 to 17.97 million in Fiscal Year 2023, representing a 22.1% decline. The base Switch model sold 6.14 million units over the past fiscal year, a 54.7% decrease, and the Switch Lite sold 2.62 million units for a 29.2% decrease. The Switch Oled Model, however, sold well at 9.22 million units, representing a 58.8% increase in sales year-over-year.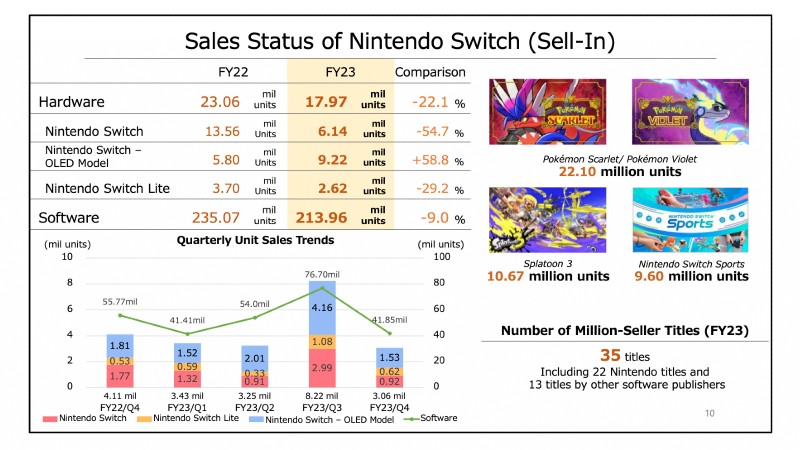 "Hardware unit sales declined year-on-year, with production strongly impacted by the global shortage of semiconductors and other components during the first half of the fiscal year," Nintendo's financial results read. "Although production constraints caused by the shortage of semiconductors and other components were largely resolved in October, hardware unit sales in the second half declined year-on-year in comparison to the same period last year, when Nintendo Switch – Oled Model was released and gave a boost to overall sales of the Nintendo Switch family." 
For its Fiscal Year 2024, which ends next March, Nintendo forecasts a decrease in net sales and profits "due to a reduction in the unit sales of Nintendo Switch hardware and software" and an appreciated exchange rate for the Japanese Yen. The company notes that the Switch has entered its seventh year since launch and that while it will become more challenging to maintain sales momentum, its goal is "to have more consumers continue to play Nintendo Switch for longer, leading to maximized sales." In other words, Nintendo wants you to play Switch from now until March 2024 – not a different console from the company, which sounds like we shouldn't expect new hardware before March. 
Nintendo forecasts selling 15 million Switch units in Fiscal Year 2024 and 180 million software units.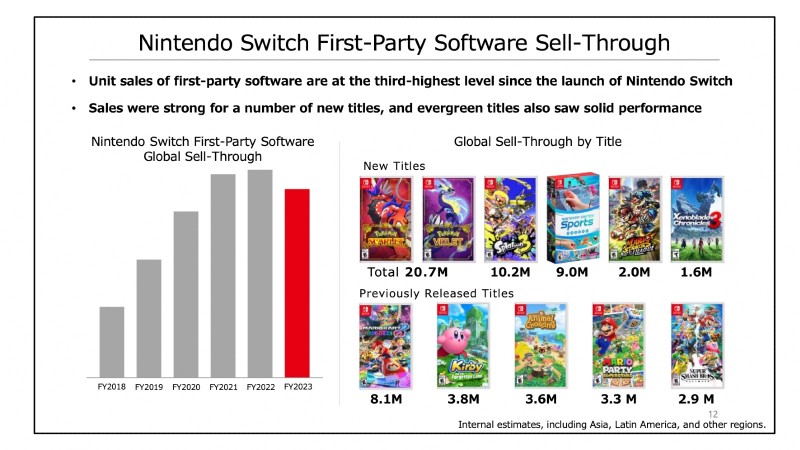 On the software side of things, there were 213.96 million units sold, which is a 9% decrease compared to the previous fiscal year. Nintendo says while new releases like Pokemon Scarlet and Violet, Splatoon 3, and Nintendo Switch Sports helped buoy its software numbers, it likely saw a decrease in overall software sales due to its decline in hardware unit sales.
Here are some updated software sales numbers for Nintendo's recent releases: 
Pokemon Scarlet and Violet: 20.7 million
Splatoon 3: 10.2 million
Nintendo Switch Sports: 9 million
Mario Strikers Battle League: 2 million
Xenoblade Chronicles 3: 1.6 million 
Nintendo says Fiscal Year 2023 was the third-highest level of worldwide sell-through for its software since the Switch's launch. Digital sales of its software are up 12.7%, accounting for 48.2% of its total software sales. 
To close out this report, let's break down Nintendo's total hardware console sales: 
Nintendo DS: 154.02 million units 
Nintendo Switch: 125.62 million units
Game Boy: 118.69 million units
Wii: 101.63 million units
Game Boy Advance: 81.51 million units 
Nintendo 3DS: 75.94 million units
NES: 61.91 million units
SNES: 49.1 million units
Nintendo 64: 32.93 million units
Nintendo GameCube: 21.74 million units
Wii U: 13.56 million units
Do you think we'll get a new Switch console sometime in 2024? Let us know in the comments below!