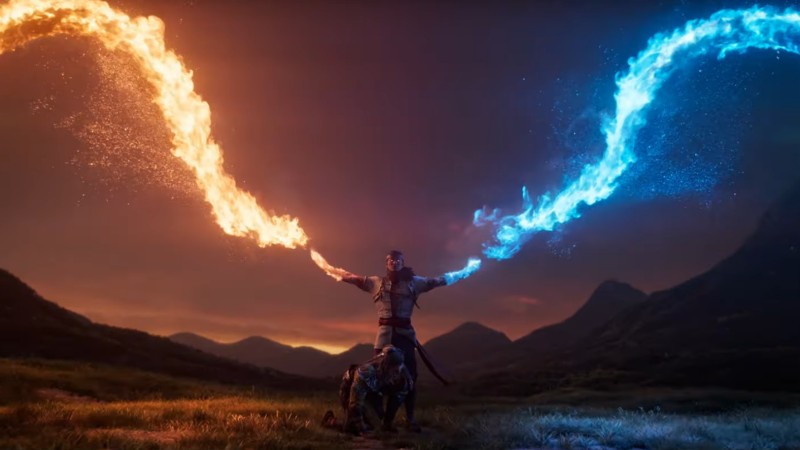 After a few teases, Mortal Kombat 1 has been announced and ushers in a new era for its kombatants by wiping the slate clean.
Following up on the conclusions of both Mortal Kombat 11 and its Aftermath expansion, Liu Kang is now an all-powerful fire god that rules over the reset timeline he created. Despite creating a peaceful new era, danger still looms its ugly head. The extremely violent cinematic trailer gives us glimpses of familiar (mostly masked) faces, though expect new twists on classic rivalries. 
Per an official press release, the following fighters are confirmed so far:
Liu Kang
Scorpion
Sub-Zero
Kitana
Mileena
Kung Lao
Raiden
Johnny Cage
Shang Tsung (pre-order bonus)
Mortal Kombat 1 will include a new cinematic story campaign and introduces a new feature called Kameo Fighter, a unique roster of partner fighters that assist players during matches. 
"Mortal Kombat 1 marks a new beginning for the franchise and we couldn't be more excited to share this original storyline and fresh take on classic characters with our fans," said NetherRealm studio head Ed Boon in the press release. "We're also introducing our Kameo Fighter system which brings a unique roster of partner characters into the mix, and we are looking forward to showing this feature as well as more new elements of the game very soon."
Mortal Kombat 1 is launching September 19 for PlayStation 5, Xbox Series X/S, Switch, and PC. Pre-orders begin tomorrow, May 19, which grants you a playable Shang Tsung and access to an early beta that begins in August. There are three editions of the game:
Standard Edition – $69.99
Premium Edition – $109.99
Base game
Early access on September 14
1,250 Dragon Krystals
Kombat Pack featuring a Jean-Claude Van Damme character skin for Johnny Cage and early access to six playable post-launch fighters and five Kameo fighters
Kollector's Edition – $249.99
All Premium Edition content
16.5-inch Liu Kang sculpture designed by Coarse
Liu Kang character skin
Three exclusive art prints
Steel case
1,450 additional Dragon Krystals (2,700 total)
What do you think of this first look at Mortal Kombat 1? What fighters would you like to see on the roster? Let us know in the comments!