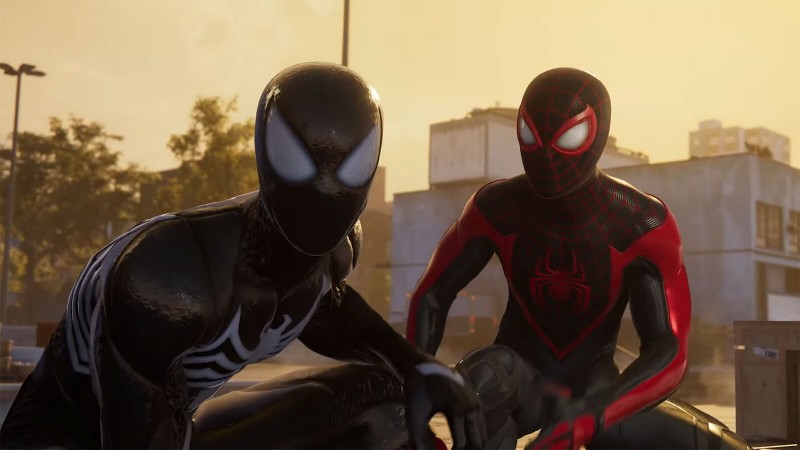 To close out today's PlayStation Showcase, Sony and Insomniac pulled out the big webs for a new look at Spider-Man 2. The long-awaited sequel is now targeting a release this fall, and an extended gameplay sequence showed us what we can expect.
An opening cinematic reveals some insight into the villainous Kraven the Hunter. Tired of easy prey in the deep jungle, one of his minions suggests a move to a new hunting ground in New York, where the likes of Spider-Man, Black Cat, and Tombstone promise more challenging targets.
The action jumps to six months later in Queens, as a black-suited Peter Parker bursts from a basement to battle some of the Hunter's goons. The gameplay sequence that follows is impressive, showing off Spider-Man's new symbiote abilities, which allow for an array of tentacle attacks that can often bring down many opponents at once.
After the battle, Peter learns Kraven's team is hunting Doctor Connors, otherwise known as the Lizard. And since the hunt is happening in Harlem, he won't be able to get there in time. He immediately calls Miles, and the perspective changes, suggesting the game (while single-player) allows for change-ups between the two Spider-Man leads.
Miles has some new tricks of his own, including some slick wingsuit capabilities that send him zipping at high speed between buildings, and web lines that let him chart his own path to taking down foes from above during stealth passages.
After a sequence trying to track down the Lizard, we learn that Connors has shed his skin and is clearly growing into a larger reptilian form, with an equally larger appetite. After linking up with his friend, Ganke, and the ominous arrival of Peter in his black symbiote suit, a thrilling chase sequence ensues down the East River, where Peter and Miles are taking down drones, jet skis, and boats as Kraven's team chases the Lizard.
While it's not clear why Peter and Miles are so interested in saving the Lizard (traditionally a villain in the stories), there seems to be some information they need from him, making his survival a must.
The rest of the gameplay sequence is equally exciting, from a crash into the water to a headlong escape along the water as The Lizard tries to attack from below. From animation to pacing to camera work – the entire sequence looks like it wouldn't feel out of place in the next Marvel Cinematic Universe film. Except, of course, Spider-Man 2 is a fully interactive experience where players control the two Spider-Men along the way.
As the extended demo winds down, we see Peter acting in a very un-Peter way, doubling down on aggressive and dangerous tendencies he's been showing throughout the sequence, leaving Miles worried about his friend and mentor.
Amid several notable reveals and new videos over the course of the PlayStation Showcase this afternoon, Spider-Man 2 stood out for its remarkable polish, taut action, and a focus on complete and uncut gameplay sequences. The game looks fantastic and is one to watch closely in the lead-up to its launch later this year.