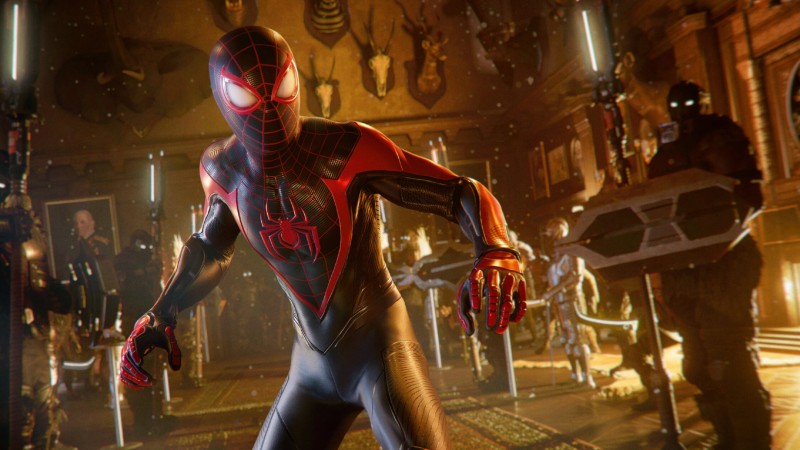 Marvel's Spider-Man 2 hit PlayStation 5 last week and it's already Sony's fastest-selling first-party game ever. However, some players have spotted a mishap related to one of the game's main protagonists, Miles Morales. His mother is Puerto Rican, and Miles is too, which is why some players found it odd that a Cuban flag hung both inside the Morales home and outside of it. After pointing it out the mistake, developer Insomniac Games has revealed a fix is on the way, as reported by PushSquare. 
In response to a tweet by Dantes61680 pointing out the incorrect flag, Insomniac's director of community and marketing James Stevenson wrote, "Fix is coming for that." As for when, that remains unclear – a post-launch patch for Marvel's Spider-Man 2 has not yet been released but presumably, when the team does push one live, it will include a fix for the flags in the game. 
Fix is coming for that

— James Stevenson (@JamesStevenson) October 20, 2023
Gamertag Radio's Danny Pena also tweeted about the flag issue over the weekend, noting that in other parts of the game, the studio got the Puero Rican flag correct. 
Looks like Insomniac mistakenly have the Cuban flag instead of Puerto Rican flag in Spider-Man 2. Here's a picture of Miles Morales walking inside his apartment. I hope @insomniacgames can fix this soon.

The odd thing later in the game, you can unlock his suit that has the PR… pic.twitter.com/OZhbRfqUDd

— Danny Peña (@godfree) October 22, 2023
PushSquare found another tweet that shows the Cuban flag hanging outside the Morales household. 
@Sony @PlayStation @insomniacgames Hello Insomniacs. You did an amazing job in Miles Morales representing the Puerto Rican culture. In Spider-Man 2, you've replaced the Puerto Rican Flag with the Cuban. We would love for the Flag to be updated to accurately represent Puerto Rico. pic.twitter.com/WfLyCS6eVs

— Tracy Santiago (@Sephiroth0017) October 22, 2023
Marvel's Spider-Man 2 hit PlayStation 5 exclusively on October 20. 
For more about the game, read Game Informer's Marvel's Spider-Man 2 review and then read about how Insomniac updated New York City for the sequel. Then check out this story about this missing NYC landmark in the game. After that, read our guide for the best graphics mode in Marvel's Spider-Man 2 and then check out our spoiler-free tips. 
[Source: PushSquare]
Are you playing Marvel's Spider-Man 2? Let us know what you think about it in the comments below!