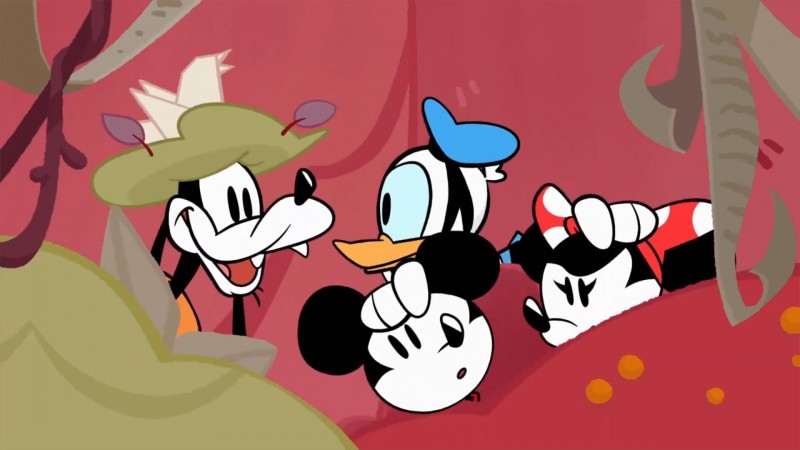 Disney and developer Dlala Studios announced Disney Illusion Island in 2022, and it immediately shot up high on my list of games to play this year. It did so for several reasons – its beautifully realized visuals, top-notch voice acting, and, of course, the potential to play as some of my favorite characters in a Metroidvania-esque adventure. That wasn't all, though; The snippets of composer David Housden's score in the reveal trailer indicated this team was on to something. 
It was clear from the first listen that Housden and Dlala put a lot of effort into making Illusion Island sound like Disney. What's more, it replicated not just the broader stroke that anyone can hear and go, "Oh, that sounds like Disney music," but instead created something wholly original that simultaneously sounded like the backtrack to decades of shorts and films starring Mickey Mouse. And I was right about that snippet of score in the reveal trailer because when I played the final game earlier this summer – read Game Informer's Illusion Island review here – I was humming along the entire time. It features a fantastic score, one of my favorites of the year, so I couldn't turn down an opportunity to interview Housden, the game's composer.
Before diving into my interview, though, Game Informer can exclusively reveal a Making Of video all about the process of creating the game's score. You can watch it below:
Pop Punk Beginnings
Illusion Island isn't the first collaboration between Housden and Dlala, with him composing for the studio's 2020 Battletoads revival and the studio's mobile game, Janksy, before that. And it's far from the first team-up between him and Dlala CEO and Illusion Island director AJ Grand-Scrutton. Their history goes back further to band and local pop-punk in England, when, according to Grand-Scrutton, both of them had less gray hair. He says their separate bands crossed paths in the local scene before Housden eventually filled in for one of Grand-Scrutton's members.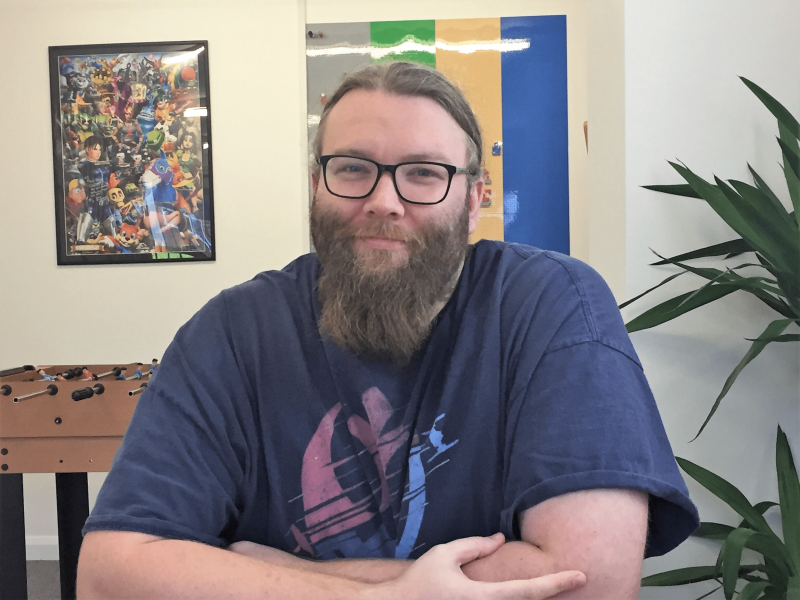 Dlala Studios CEO and Disney Illusion Island director AJ Grand-Scrutton
Housden was in college studying music, but not for games specifically, although his dissertation – an exploration of the techniques and technologies used in modern video game soundtrack creation – indicates otherwise. Grand-Scrutton was at Jagex, the team behind Runescape, working with people across development and quality assurance. After working on recompositions for Silent Hill and Dead Island games, Housden was working with Mike Bithell, now leader of Bithell Games, on the score of BAFTA award winner Thomas Was Alone. 
"Everyone knows zombie games translate really well to [Bithell's] game about squares," Grand-Scrutton jokes. Humor aside, Housden is now a BAFTA-nominated composer courtesy of a game about squares. 
Coincidentally, Bithell Games released Tron: Identity, a game born out of a Disney collaboration similar to that of Dlala's, just a few months before Illusion Island.
After a successful collaboration for the scores of Janksy and Battletoads, Grand-Scrutton says Housden was the only choice for Illusion Island. I joke that Housden is the Hans Zimmer to Grand-Scrutton's Christopher Nolan, but Grand-Scrutton says given the option for Zimmer to work on the Illusion Island score, he still would've selected Housden. Their friendship and how it has created what appears to be a highly fruitful working relationship is almost palpable when talking to them through a webcam. 
"The big thing is not just how good he is; it's about how well we work together," Grand-Scrutton tells me. "I can give him the world's worst briefs [like] Power Rangers theme song references and Hulk Hogan's theme in the '80s [for Battletoads], and he just gets it. I always have briefs in my head, but I just can't vocalize them and after working together for over 10 years, he just gets it."
Grand-Scrutton says the success of Housden as a composer is that he doesn't just care about the music but, rather, the entire game. "He will write music that fits the world and the game, and it just comes out as pure gold," he says. "He's a wonderful human being, and our personal relationship has made it so much easier. There's nobody else on the planet I want to work with." 
Housden says the feelings are reciprocated, noting that Grand-Scrutton doesn't give himself nearly as much credit in their working relationship on creating game scores as he deserves. 
"I absolutely adore working with AJ and I'm super grateful for all the trust he's shown me over the years," Housden says. "It's not a small IP. I think Disney would have had every right to say, 'Who the hell is this guy and why should we be trusting him?' I'm sure AJ fought to have me on there and that was probably my biggest motivator to write the best possible music." 
Housden is especially thankful to Grand-Scrutton for this opportunity as writing Mickey Mouse music requires a lot of "note-y music and complexity," the kind of stuff he says requires years of classical training; Housden, a non-traditional musician, has none. He doesn't read or write music traditionally – he just creates a sound he and whomever he's working with are happy with. 
"If it sounds good, it is good," Housden says.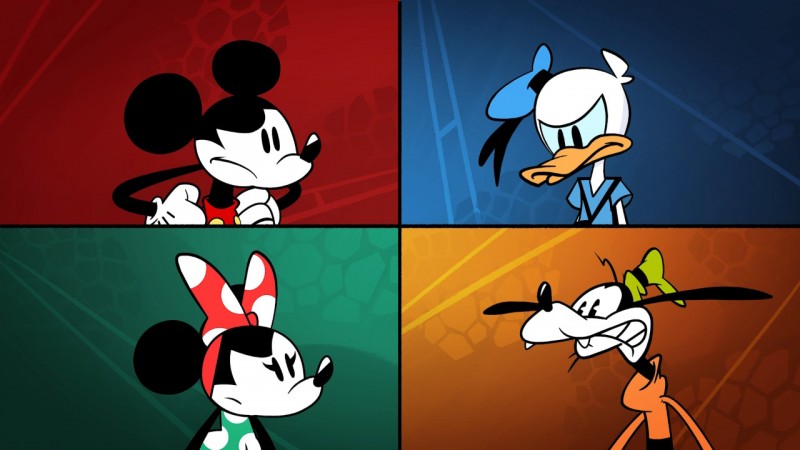 Disney Illusion Island
The Sound Of Mickey
Housden says almost immediately, Dlala and the Disney music team involved had to reel him in on the score. When he thinks of Disney, his mind goes to the 1990s period of Disney animation fans call the Renaissance. After company leaders Walt and Roy O. Disney died in 1966 and 1971, respectively, the company struggled in the movie market. Some films were hits, like 1977's The Rescuers. Others not so much, like 1981's The Fox and the Hound, which also saw long-time Disney animator Don Bluth leave Disney to create a rival company. But after a nearly 20-year slump, the Disney animation renaissance began with 1989's The Little Mermaid. This period of Disney movies includes hits like Beauty and the Beast, Aladdin, The Lion King, with a score by the aforementioned Zimmer, Hercules, Mulan, and more. Housden swung for the fences with that "princess sound" in mind, but Dlala and Disney had to reel him in, to about 50 years earlier, to the 1930s Jazz and Ragtime sounds of Disney. 
"Sweeping and romantic, that is the Disney sound to me," Housden says, remarking on famed composer Alan Menken's work with the company, specifically. "One of my creative pillars for the work we had to complete over the next few years is that the score should feel and sound like Disneyland and its different areas. Our different areas in Monoth are like the different lands of Disneyland. I went to the '90s sound, but after working with the Disney music department, I realized Mickey actually has his own sound, and it's very much Jazz and Ragtime, the zeitgeist music and what was popular when Mickey was created. It was naturally steeped into his musical identity."
That sound has changed over the years, with Disney's latest series of Mickey Mouse shorts featuring heavy metal, dubstep, and more. But at the heart of it all is the old 1930s and '40s Jazz, with notes outside conventional scales and more. Today, it also includes instrumentation synonymous with the mouse, like whistles. Housden says Illusion Island's score uses an actual human whistle to emulate the Steamboat Willie feel of Mickey Mouse's history.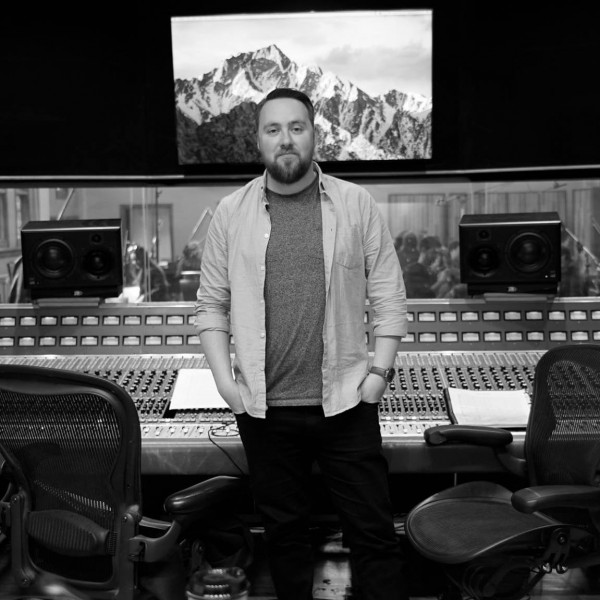 Disney Illusion Island composer David Housden
Other instruments used to create the score of Illusion Island vary based on the Monoth biome in question. In its Botany realm, you'll hear a lot of percussion and wind instruments like the marimba, woodblock, and more to emulate a natural sound. But in Monoth's Engineering biome, you'll hear more metal instruments meant to emulate cognitive machinery. And in one of Monoth's underwater sections, you'll hear a lot of the ocarina, an instrument originally made out of a shell that, in most cases today, just looks like a shell now. 
"Typically, you create themes for characters and then background music for them to exist in," Housden says. "But for me, each area is a character and has a personality and identity." 
The first thing Housden created was the theme for The Library, Illusion Island's hub, which was present in Dlala's first vertical slice demo for Disney. After that, he created the complete theme of Illusion Island but says it wasn't a good example of what Disney asked him to do. So he and Grand-Scrutton sat on that, sending "safer choices to get our foot in the door so that Disney trusted us." That theme, however, is the theme of Ilusion Island, despite early trepidation.
In Disney parks like California's Disneyland or Florida's Disney World, parks like Magic Kingdom have different "lands," like Tomorrowland, Adventureland, and Frontierland. While walking through these lands, you'll likely notice that each has its own distinct sound, but Disney transitions in and out of each land's theme using special speaker-based crossfade techniques. Illusion Island does the same, although the team uses software and technology in-game instead of physical speaker-based crossfading. Nonetheless, the result is an almost subconscious transition between Illusion Island's Monoth's various locations. It works great, and close listeners will enjoy how Ilusion Island's tracks seamlessly move in and out of each other. 
Housden's use of a real, in-person orchestra also elevated Illusion Island's music to that Disney park feel. 
"Using an orchestra was both hugely exciting and challenging," he tells me. "The prospect of hearing music you wrote played by the best performers in the world is the best feeling and something you don't imagine. But it's incredibly daunting as well because I haven't had that background of schooling. I don't write or read music myself, so everything I do, I do by ear. Replicating a genre of music that requires years of training was incredibly daunting […] but I seemed to have achieved something that's resonated." 
I found Illusion Island's music incredibly ear-wormy and caught myself humming tunes from it throughout the day while playing it this summer. Housden says he has no way to write tunes that stick with people that way, no way to create "whistle-worthy" melodies; He just writes music. But he admits he has a natural inclination to write pop-infused music and the result seems to often be catchy, poppy melodies. "I don't think about it; if I did try to analyze it, it might become fake and forced," he says.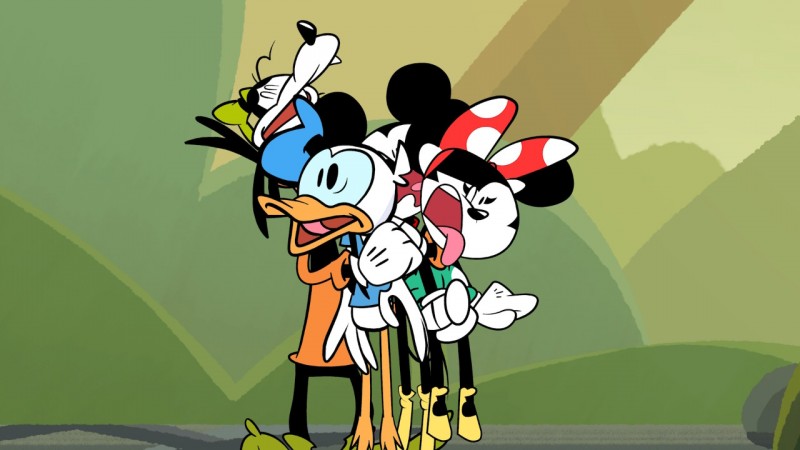 A Dreamy Reception
Illusion Island exclusively hit Switch in July, and now, months separated from its release, Grand-Scrutton, Housden, and the rest of Dlala are, simply put, stoked about the game's warm reception. For Grand-Scrutton, he's enjoyed seeing all of the "core memories," to borrow a term from Pixar's 2015 Inside Out, families are making with the game. 
"I've seen some tweets about people completing a game [this game] for the first time with their son or daughter and that's a core memory in the making," he says, remarking on how he has his own core memories with Top Gun on NES with his dad and Super Mario with his mom. "I loved making this game and working with those characters, and it's been really, really lovely and I'm happy with how it's been received." 
As for Housden, he's happy to see how much Illusion Island's music has resonated with players, especially given he feels that music is often an overshadowed, underappreciated aspect of video games (and I agree). 
"You've got the visuals and the gameplay mechanics first, but what you feel most after that is the score and it's quite criminal how overlooked that is," he says. "It's been quite overwhelming for me, not only because it's an aspect of games that tends to get overlooked but because it's such a big challenge coming into it. 
"The majority of my work prior to this has been largely in the indie sector, so this represented a really big jump for me and the trust I've been given by both Disney and the studio itself. I was really conscious to repay that, so it's been very moving for me to see so many people say so many nice things about this score because I really did put everything into it."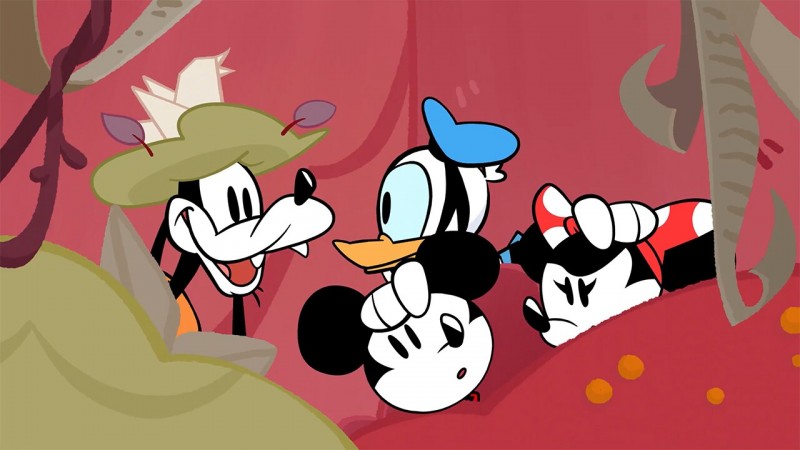 Disney Illusion Island was released on Switch on July 28. Read our thoughts on the game in Game Informer's Disney Illusion Island review, and then read our deep-dive feature into the making of this Mickey Mouse Metroidvania adventure. 
Have you played Disney Illusion Island? Let us know what you think of it in the comments below!